---
A few Notes
And Thousands of Links
to Everything Happening in Madison
This Week
Regardless of why you were in Madison in the past, we want you to Come Back To Madison to...
Play. Work. Visit. Live. Party. Protest. Start a New Life. Retire in Style... MadisonNotes.com is a blatant attempt to share our community and all it has to offer with you. We are proud -- let us show you why.
Ken Harwood
Advocating for Wisconsin
Ken [at] KenHarwood.com
608.334.2174

Jezrel White
Advocating for Madison
Jezrel [at] MadisonNotes.com
608.772.5805


Ken Notes: In a hurry click here "Just the Titles" for a 10 Second overview


2017 Goals:
MadisonNotes will advocate for:
Destination tourism (Plays, Events, Concerts, Etc.)
Regional, National and Global recognition of our restaurants, hotels, and venues.
A visitor and business friendly transit systems.
The cooperative use of venues to support conventions and other major events.
Downtown living for adults, from millennial`s to seniors.
Business travelers to extend their stay into the weekend or return visits.
...more
---
Aug 17 Aug 24

Wisconsin's largest technology and entrepreneurship festival.
Join fellow entrepreneurs, nerds, geeks, hackers, foodies, and creatives from the Midwest in an 8-day celebration of innovation and entrepreneurship.
...more
---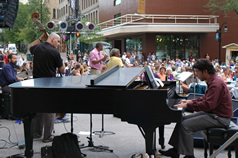 On August 9th, the season kicks off with the Paydon Quartet led by bassist Evan Paydon from Milwaukee, and now a featured artist in the New Orleans jazz scene. Brew City Big Band, a 19-piece band from Milwaukee will be making an appearance this year with their big band rhythms...
...more
---
August 16th and 17th
The third pair of Central Park Sessions music-related activities are slated for Wednesday, August 16th and Thursday, August 17th on The Great Lawn of The Central Park.
This pair has Louisiana tattooed all over it. The Wednesday Sessions Select Concert featured artist is the acclaimed pianist and New Orleans resident Jon Cleary and his band performing two sets . The 13-piece Chicago Yestet Jazz orchestra featuring our own celebrated Rob Dz.master of the spoken word will open.
Thursday`s Ragin` Cajun Session features Lost Bayou Ramblers in the middle slot and the incomprable slide guitarist Sonny Landreth in the headliner role. The John Moulder Organ Trio (now a flashy quintet)
with Dane Richeson on drums and horn men Daren Sterud and Al Falaschi.


Of couse there will be great food and drink for us all to purchase at this free event that benefits 8 nonprofits doing great work on the local, countywide and statewide levels.

August 16th: Lauer Real Estate Group Sponsor
5:30-6:45: The Chicago Yestet with Rob Dz
6:45-- 7:30 -- The Major Vistas ( in the beer/ wine tent)
7:30- 8:30: Jon Cleary (New Orleans)
8:30- 9:00 -- The Major Vistas ( in the beer/ wine tent)
9:00- 10:00 -- Jon Cleary (set two)
To benefit The Urban League of Greater Madison

August 17th: Lauer Real Estate Group Sponsor
The Ragin` Cajun Session
5:00 pm John Moulder Organ Trio w/ Darren Sterud and Al Falaschi
6:30 pm Lost Bayou Rambers
8:15 pm --The Express Sessions Auction
8:30 pm Sonny Landreth
To benefit the Omega School
...more
---
Date:
August 17, 2017

- August 20, 2017

For the low cost of $1.00 admission on Saturday and Sunday per person for gate walk-in, attendees can enjoy free entertainment, children`s activities and more. Children age 6 and under are free admission, and if you park on the grounds admission is included in the price.
Buttons are $1.50 for unlimited entrance to the Festival.
Parking is $5.00 per vehicle and includes admission.

Over 100,000 people from around the Midwest attend the event which serves over 80 tons of sweet corn during the weekend!...

...more
---
The Saturday Dane County Farmers' Market is conveniently located on the tree-lined grounds surrounding the Wisconsin State Capitol building. Grab your family, friends, and your reusable shopping bags and enjoy a Madison tradition!

One of Fresco`s fan favorites is back!
Opera Unplugged takes opera out of the performance hall and brings it to the streets.
Join us at the Dane County Farmer`s Market ...
2017 FREE FARMERS` MARKET ORGAN CONCERTS
Saturday, August 12, 11 a.m. | Overture Hall
Young organist Adrian Binkley is a Madison native and student at the Curtis Institute of Music in Philadelphia. Mr. Binkley has performed across the nation... His virtuosic program will feature works by Bach, Mendelssohn, Widor, and Vierne...
...more

Ken Notes: This may be the perfect Saturday Morning! The Market and Opera and Madison Symphony Orchestra`s Overture Concert Organ. By the way everything is in season mmmmmmm....
---
The Gialamas Company, Inc. is pleased to announce that Wednesday, August 9, 2017, will mark the 16th anniversary of Concert in the Park. For the ninth consecutive year, the talented musicians of the Wisconsin Youth Symphony Orchestra (WYSO) will amaze you with an entertaining and inspirational concert!
Located at 1200 John Q. Hammons Drive in the Old Sauk Trails Business Park, this beloved tradition is free for all to enjoy! This year in celebration of the new building, Sauk Trails Plaza II, which is being constructed in the backdrop of the concert area, The Gialamas Company, Inc. will be underwriting the concert in its entirety. Tables will still be available for purchase by contacting bridget@gialamas.com or 608-836-8000....
...more
---
MadisonNotes does NOT maintain a calendar because there are so many great ones already! Here are a few we like, many will allow you to submit your event.

...more

Ken Notes: FREE - If your calendar or chamber is not listed call 608-334-2174...
---
Just a note to say thank you to the Wisconsin Chamber Orchestra for a wonderful season of concerts on the square!
From WCO... (more info at the link!)
We are thrilled to announce our 2017-2018 season, with an incredible lineup of world-class musicians. Our 57th season features works by Schoenberg, Tchaikovsky, Schumann, Paganini, and an all Beethoven concert on May 11th. We're looking forward to welcoming fantastic guest artists, Soh-Hyun Park Altino and Leo Altino, Giora Schmidt, Alexandrew Dossin, Ilya Kaler, and John O`Conor for our Masterworks series, and our four outstanding soloists for Handel`s Messiah.
We look forward to seeing you this coming year for this exciting season!...
...more
---
SUN AUG 20, 2017
OLBRICH PARK 3PM-8PM
MADISON, WI
A new festival that celebrates art, food & public spaces
Makeshift is a new festival aimed at celebrating creativity in the visual and culinary arts and creating new memories in Madison's world-class parks. 100% of the proceeds go to the Madison Parks Foundation, the non-profit organization that helps support Madison's Parks. For more information on what we do, check out our main website. It`s free! We're gathering some of the most exciting chefs & organizations from throughout the midwest to whip up $5-7 tasting dishes for you. You pay them, they give you delicious, delicious food. Thirsty?? We've got you covered there, too. We've got beer from Karben 4 & Hop Haus, and Spirited Women will be curating the bar with alcoholic & non-alcoholic drinks. Also, the exceedingly awesome Water Wagon will be there from the Madison Water Utility....
...more
---
August 11
Welcome to Dane Dances!

Dane Dances! is a family friendly event on the stunning Monona Terrace rooftop every Friday evening in August. The much-anticipated summer music series is a great way to get down and dance with your friends, coworkers, or family. The rooftop gets shaking as the sun sets against the iconic Wisconsin State Capitol with the breeze of the Lake Monona at your back while you dance. Feel free to bring a blanket, chair and picnic basket; seating on the rooftop is limited. Sorry, carry in alcohol is prohibited. Dane Dances! promotes inclusivity with a fun night of music and dancing to DJs and bands for all ages.

Food and cocktails are available for purchase at 5:00pm. Food by Cuco's Mexican Restaurant, Lake Vista Cafe, Ribmasters and LaTaguara.

...more
---
Saturday, August 19
Doors 1pm, Show 2pm
$5 at the door or Free with RSVP

"This is America, babe. You gotta think big to be big!"

Celebrate Pride weekend alongside Outreach LGBT Community Center and Our Lives Magazine at The Orpheum Theater with a special screening of Hairspray on our giant movie screen!

Want to get on the list? Click "FIND TICKETS NOW" and fill out the RSVP form for complimentary entry to the event!...
...more
---
---
Now in its 9th glorious year, SummerJam has become a Madison Summertime tradition. What is SummerJam, you ask?? FREE parties hosted at the historic Majestic Theatre in beautiful downtown Madison on Thursday nights throughout the Summer, featuring some of best and brightest in local and regional talent. We are THRILLED with how our lineup has come together this Summer and hope you join us for all the raging parties – August 10, August 31 & September 7!
...more
---
Aug 11th | 5pm to 7pm

Aug 11th | 9pm to 11:55 pm

Saturdays, Sundays | Aug 12th - Sep 3rd
Aug 12th | 3pm to 5pm
Aug 12th | 9pm to 11:55 pm
Aug 13th | 5pm to 6:15 pm
...more

Ken Notes: Sumner is NOT over yet!
---
August 19 2017, 10:30am - 12:00pm
Stop by DreamBank with the family and prepare to be amazed by the wonders of magic! Ryan Martin will be performing two shows, one from 10-10:30 and another from 11-11:30 with close-up mingling magic from 10:30-11 and 11:30-12. You'll watch one dollar bills be transformed into $100 bills, playing cards turn into blocks of glass, and much more!..
...more
---
Date:
August 19, 2017
Time:
9:00AM-11:30AM
Cost:
$0.00
Market:
South Central
Find out what steps you need to take to get your food business started. You will learn about licensing, permits. Obtain an understanding of insurance and secure a outline of steps to accomplish before you open.
Location:
Madison WWBIC
Address:
2300 S Park St Suite 113
City:
Madison
...more

Ken Notes: Thinking about Madison fro more that a visit, Wisconsin Women`s Business Initiative Corporation can give you a hand...
---
Sponsoring Hotels and Lodging in the Madison Area


...more
---
Thu, Aug 10 - Fri, Aug 11
It's the circle of life! Join Simba and the animal kingdom as he finds courage to take his place on Pride Rock.
Summer Stage at CTM features performances by students in our Educational Programs. (CTM's professional Theater for Young Audiences season kicks off in October)....
...more
---
Saturday, August 19, 2017
5-7 p.m. Pat Sheng Quartet
9-11:55 p.m. Lucien Parker, Mic Kellogg and Rahn Harper

Saturday, August 19, 2017
9 p.m. The Revelers

...more
Ken Notes: As always sooo much more at the link....
---
–
Overture Hall
Step into the cool expanse of Overture Hall on three Saturdays in August during the Dane County Farmers` Market on the Capitol Square to enjoy the gift of beautiful music with the Madison Symphony Orchestra`s Overture Concert Organ. Bring your family and friends for a relaxing 45-minute free concert. No tickets or reservations are needed and all ages are welcome!
...more
---
Saturday, August 19, 2017
Additional Dates
Thursday, August 17, 2017
7:30 pm
Friday, August 18, 2017
7:30 pm

An original play about the Bartell Theatre`s history. Six local theatre groups, who have been producing plays in whatever space they could find, unite to create a permanent home. Being led by a retiree who likes a challenge, they quickly learn there`s more drama in building a stage than performing on it....

This play is a fundraiser for the Bartell Theatre Foundation – to celebrate the 20th Anniversary Season!!...
...more
---
Supporting Restaurants and Pubs in the Madison Area
...more
---
Tues., August 15 – Carl Davick & Friends

(Orchestra/Classical) @ 6:30 pm – 7:45 pm
Winnequah Park
5301 Healy Ln
Monona, WI
Unwind at an outdoor concert in the serene setting of Winnequah Park while enjoying food carts and live entertainment.
Bring your chairs, blankets and picnic baskets or purchase food from one of the excellent food carts available at the event. Join us for this fun and entertaining family-oriented event!...
...more
---
Thru - Sunday, August 13, 2017
Experience the magnificence of free-flying butterflies while strolling through the tropical Bolz Conservatory. Live butterflies emerge from chrysalises daily in the Conservatory, including low-flyers like the playful yellow and black striped zebras and bright orange julias...
Ticket Prices
$7 ages 13 & up
$3 ages 3 - 12
Free ages 2 & under
Free for Olbrich Members
...more
---
Music Theatre of Madison presents...
The legend of Lizzie Borden comes to life in a thrilling Wisconsin premiere, showing the days before and after Borden`s parents were brutally murdered with an axe. Four women front a six-piece rock band to take audiences on a journey of betrayal, greed, jealousy, lust, and murder.

Lizzie Borden, one of America`s most notorious alleged murderers, comes chillingly to life in LIZZIE, a glorious rock musical performed by a quartet of power house women. Go back to August of 1892 on a wild ride of sex, conspiracy, and murder in this musical gem that`s sweeping the globe.
August 17: 7:30 p.m.
August 18: 7:30 p.m
August 19: 7:30 p.m. (MISCAST to follow)
August 24: 7:30 p.m
August 25: 7:30 p.m. and 10:30 p.m.*
August 26: 7:30 p.m.
...more
---
Times: Thursday evening tours are at 6:00 p.m. Saturday morning tours are at 11:00 a.m.

Reservations: No reservations are necessary!
Where to meet: View the instructions on our tour info page to find out where the tour starts.
Cost: Tours are $10 for adults, $5 for students, and free for Madison Trust members!
...more

Notes:
---
---
...more
---
The UW–Madison Memorial Carillon concerts at 3 p.m. on with Sunday afternoon concerts on the second and fourth Sundays of the month at least through August...
Designed by Arthur Peabody, the UW-Madison carillon was originally dedicated in 1936 with 25 bells. Additions and replacements resulted in the current configuration of 56 bells ranging in size from 15 to 6,823 pounds.
The UW-Madison carillon is one of three in Wisconsin, the others being at Marquette University in Milwaukee and First Evangelical Lutheran Church in Green Bay...
...more

Ken Notes: So here is one I bet you did not know about.
---
August 19 @ 9:00 pm
Grammy elected and recent Blues Hall of Fame inductee, Australian blues artist Michael Charles will claim the stage and embrace you with an elevated level of energy and a guitar driven journey through thirty four years and thirty four releases of his original music.

Leading off with an explosive blues number, the audience is soon captivated by well-rehearsed precision experiencing MC's original blues, blues based rock, inspiring ballads, as well as some well-known covers. As in all of Michael Charles' performances and recordings his guitar is kept forefront and is the driving force behind his music!..

...more
---
UW-Madison plays "Game of Thrones" theme from bell tower...
...more

Ken Notes: Way cool!!!
---
Restaurants From:
The Greater Madison
Convention & Visitors Bureau
...more
---
A Generous Grant From WisconsinDevelopment.com...

If you would like to sponsor MadisonNotes
please call - 608.334.2174

Our Current Publications:
| | | |
| --- | --- | --- |
| WisconsinDevelopment.com | WDNGreen.com | WisconsinApprentice.com |
| DriftlessNotes.com | | MadisonNotes.com |
2017 Goals:
MadisonNotes will advocate for:
Destination tourism (Plays, Events, Concerts, Etc.)
Regional, National and Global recognition of our restaurants, hotels, and venues.
A visitor and business friendly transit systems.
The cooperative use of venues to support conventions and other major events.
Downtown living for adults, from millennial`s to seniors.
Business travelers to extend their stay into the weekend or return visits.
...more
---
Start Week: 31 - Query String:SELECT * FROM cbtmnews WHERE `issue` > 31 and volume = 5 OR `issue` > 90 ORDER BY sortorder