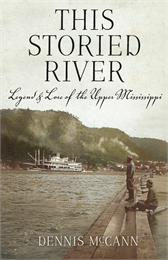 Wednesday, November 15, 2017
6-8:30 pm
Enjoy an intimate look at the Upper Mississippi, from Dubuque, Iowa, to the Minnesota headwaters and many places in between with Dennis McCann, author of This Storied River: Legend and Lore of the Upper Mississippi. Far more than a travel guide, "This Storied River" celebrates the Upper Mississippi's colorful history and the unique role the river has played in shaping the Midwest for generations. McCann inspires a new appreciation for the river and its landscape in this humorous and enlightening collection.
Pre-registration and payment is required for this event. See link for details on how to sign up.
Dinner Menu
Before the presentation, participants will enjoy a meal inspired by the Upper Mississippi catered by Blue Plate Catering.
Also:
Saturday, November 18, 2017
10am-12pm

...more